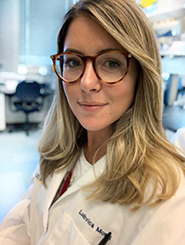 Post-doctoral fellow
Skaggs School of Pharmacy and Pharmaceutical Sciences
University of California, San Diego
Contact: This email address is being protected from spambots. You need JavaScript enabled to view it.
I received my doctoral degree in Life Sciences from Sapienza University in Rome, during which, I conducted my studies between Italy and USA. I am currently a postdoctoral researcher at the University of California San Diego. My research bridges the interface between organic chemistry and biological evaluation of microtubule-targeting agents to discover novel treatments for neglected tropical diseases; namely, African sleeping sickness and schistosomiasis for which there are only a few non-optimal drugs available. Working with Drs. Ballatore and Caffrey, my research has clinical potential through the development of new chemical entities, discovery of new therapeutic agents, and translating the understanding of structure-activity relationships to optimize and improve available treatments for patient care.
PUBLICATIONS
Brain-Penetrant Triazolopyrimidine and Phenylpyrimidine Microtubule Stabilizers as Potential Leads to Treat Human African Trypanosomiasis. ChemMedChem. 2018 Sep 6;13(17):1751-1754. doi: 10.1002/cmdc.201800404. Epub 2018 Aug 7. Monti L, Wang SC, Oukoloff K, Smith AB 3rd, Brunden KR, Caffrey CR, Ballatore C.
Evaluation of Oxetan-3-ol, Thietan-3-ol, and Derivatives Thereof as Bioisosteres of the Carboxylic Acid Functional Group. ACS Med Chem Lett. 2017 Jul 5;8(8):864-868. doi: 10.1021/acsmedchemlett.7b00212. eCollection 2017 Aug 10. Lassalas P, Oukoloff K, Makani V, James M, Tran V, Yao Y, Huang L, Vijayendran K, Monti L, Trojanowski JQ, Lee VM, Kozlowski MC, Smith AB 3rd, Brunden KR, Ballatore C.
Multitargeted Imidazoles: Potential Therapeutic Leads for Alzheimer's and Other Neurodegenerative Diseases. J Med Chem. 2017 Jun 22;60(12):5120-5145. doi: 10.1021/acs.jmedchem.7b00475. Epub 2017 Jun 8. Cornec AS, Monti L, Kovalevich J, Makani V, James MJ, Vijayendran KG, Oukoloff K, Yao Y, Lee VM, Trojanowski JQ, Smith AB 3rd, Brunden KR, Ballatore C.
Evaluation of the analgesic effect of 4-anilidopiperidine scaffold containing ureas and carbamates. J Enzyme Inhib Med Chem. 2016 Dec;31(6):1638-47. doi: 10.3109/14756366.2016.1160902. Epub 2016 Apr 11. Monti L, Stefanucci A, Pieretti S, Marzoli F, Fidanza L, Mollica A, Mirzaie S, Carradori S, De Petrocellis L, Schiano Moriello A, Benyhe S, Zádor F, Szűcs E, Ötvös F, Erdei AI, Samavati R, Dvorácskó S, Tömböly C, Novellino E.
Arylboronic acids as dual-action FAAH and TRPV1 ligands. Bioorg Med Chem Lett. 2016 Mar 1;26(5):1401-5. doi: 10.1016/j.bmcl.2016.01.071. Epub 2016 Jan 25. Morera E, Di Marzo V, Monti L, Allarà M, Schiano Moriello A, Nalli M, Ortar G, De Petrocellis L.
Discovery of 1,1'-Biphenyl-4-sulfonamides as a New Class of Potent and Selective Carbonic Anhydrase XIV Inhibitors. J Med Chem. 2015 Nov 12;58(21):8564-72. doi: 10.1021/acs.jmedchem.5b01144. Epub 2015 Nov 4. La Regina G, Coluccia A, Famiglini V, Pelliccia S, Monti L, Vullo D, Nuti E, Alterio V, De Simone G, Monti SM, Pan P, Parkkila S, Supuran CT, Rossello A, Silvestri R.
New Indole Tubulin Assembly Inhibitors Cause Stable Arrest of Mitotic Progression, Enhanced Stimulation of Natural Killer Cell Cytotoxic Activity, and Repression of Hedgehog-Dependent Cancer. J Med Chem. 2015 Aug 13;58(15):5789-807. doi: 10.1021/acs.jmedchem.5b00310. Epub 2015 Jul 20. La Regina G, Bai R, Coluccia A, Famiglini V, Pelliccia S, Passacantilli S, Mazzoccoli C, Ruggieri V, Verrico A, Miele A, Monti L, Nalli M, Alfonsi R, Di Marcotullio L, Gulino A, Ricci B, Soriani A, Santoni A, Caraglia M, Porto S, Da Pozzo E, Martini C, et al.