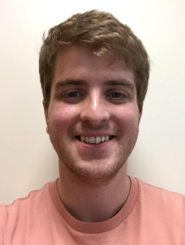 Post-doctoral Fellow, UCSD
Skaggs School of Pharmacy and Pharmaceutical Sciences
Contact: This email address is being protected from spambots. You need JavaScript enabled to view it.
My research interests broadly span targeted and phenotype-based drug development, with an emphasis on infectious diseases. During my Ph.D. studies under the supervision of Dr. Matthias Götte at McGill University in Montreal, Quebec, Canada, I characterized the biochemical mechanisms of action of novel small molecule inhibitors of HIV-1 reverse transcriptase with unique resistance profiles (pyrophosphate analogues, nucleotide-competing inhibitors and delayed chain terminators). Further development of these new classes of compounds will hopefully lead to expanded options for treatment-experienced patients who develop resistance to components of their drug regimens.
I am currently conducting post-doctoral research in the laboratory of Dr. Jair Lage de Siqueira-Neto, CDIPD, where I am actively involved in the development of high-throughput screening assays and profiling of small molecule and natural product libraries against neglected tropical diseases (Trypanosoma cruzi, Leishmania donovani and the Zika virus), as well as pancreatic cancer. Using cell-based phenotypic screens and high-content cellular imaging, our group is engaged in the identification and lead optimization of drug-like molecules for these diseases.
PUBLICATIONS
Nucleotide Sugar Pucker Preference Mitigates Excision by HIV-1 RT. ACS Chem Biol. 2015 Sep 18;10(9):2024-33. doi: 10.1021/acschembio.5b00263. Yamada K, Wahba AS, Bernatchez J, Ilina T, Martínez-Montero S, Habibian M, Deleavey GF, Götte M, Parniak MA, Damha MJ.
Alpha-carboxy nucleoside phosphonates as universal nucleoside triphosphate mimics. Proc Natl Acad Sci U S A. 2015 Mar 17;112(11):3475-80. doi: 10.1073/pnas.1420233112. Balzarini J, Das K, Bernatchez J, Martinez SE, Ngure M, Keane S, Ford A, Maguire N, Mullins N, John J, Kim Y, Dehaen W, Vande Voorde J, Liekens S, Naesens L, Götte M, Maguire AR, Arnold E.
Derivatives of mesoxalic acid block translocation of HIV-1 reverse transcriptase. J Biol Chem. 2015 Jan 16;290(3):1474-84. doi: 10.1074/jbc.M114.614305. Bernatchez J, Paul R, Tchesnokov EP, Ngure M, Beilhartz GL, Berghuis AM, Lavoie R, Li L, Auger A, Melnyk RA, Grobler JA, Miller MD, Hazuda DJ, Hecht SM, Götte M.
Characterization of amino acids Arg, Ser and Thr at position 70 within HIV-1 reverse transcriptase. Acta Clin Belg. 2014 Oct;69(5):348-57. doi: 10.1179/2295333714Y.0000000038. Megens S, De Wit S, Bernatchez J, Dekeersmaeker N, Vinken L, Covens K, Theys K, Camacho RJ, Vandamme AM, Götte M, Van Laethem K.
Dynamics of hepatitis C virus (HCV) RNA-dependent RNA polymerase NS5B in complex with RNA. J Biol Chem. 2014 May 16;289(20):14399-411. doi: 10.1074/jbc.M113.529743. Karam P, Powdrill MH, Liu HW, Vasquez C, Mah W, Bernatchez J, Götte M, Cosa G.
Formation of a quaternary complex of HIV-1 reverse transcriptase with a nucleotide-competing inhibitor and its ATP enhancer. J Biol Chem. 2013 Jun 14;288(24):17336-46. doi: 10.1074/jbc.M112.433441. Ehteshami M, Nijhuis M, Bernatchez J, Ablenas CJ, McCormick S, de Jong D, Jochmans D, Götte M.
Inhibitors of the Hepatitis C Virus RNA-Dependent RNA Polymerase NS5B. Viruses. 2010 Oct;2(10):2169-95. doi: 10.3390/v2102169. Powdrill MH, Bernatchez J, Götte M.