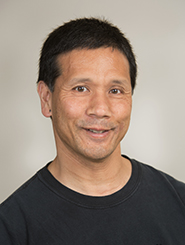 Research Associate, UCSD
Skaggs School of Pharmacy and Pharmaceutical Sciences
Contact: This email address is being protected from spambots. You need JavaScript enabled to view it.
My research focuses predominately on the studying of the Clan CA cysteine proteinases, cathepsin B and L. These proteolytic enzymes have been reported to possess a broad range of biological function that encompasses an equally broad spectrum of disease states. These diseases include amongst others, parasitic virulence, cancer, arthritis, and alzheimer's disease. The biological importance of cathepsins in disease validates the efforts in understanding the fundamental mechanism of action, biological targets and subsequently the development of therapeutic compounds.
My interest in parasitic research began 26 years ago in the research laboratory of Dr. Sharon Reed (UCSD), where our main focus has been investigating the cathepsins and thioredoxin reductase of Entameoba histolytica, the causative agent in amebiasis which afflicts over 40 million individuals every year. Recently, I also joined CDIPD as a molecular biologist involved in the expression and characterization of cathepsins and phosphodiesterases, as well as the drug discovery which targets these virulence factors in numerous neglected tropical diseases.
Additionally, I am the manager for the Dr. McKerrow and Dr. Podust laboratories responsible for maintaining compliance with Environmental, Health and Safety (E,H &S) standards; including safety training, hazardous waste disposal, and general compliance of a safe work environment. I develop and implement standard operating procedures (SOP) for experimental techniques as well as the use and maintenance of key laboratory equipment; act as the liaison regarding the repair and routine maintenance of all laboratory equipment.
PUBLICATIONS