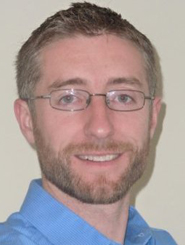 Assistant Professor, UCSD
Skaggs School of Pharmacy and Pharmaceutical Sciences
Protease, Proteasome, Substrate Specificity, Enzymology, Inhibitor Design, Mass Spectrometry
Contact: This email address is being protected from spambots. You need JavaScript enabled to view it.
Follow me: http://profiles.ucsd.edu/anthony.odonoghue
I received my undergraduate degree and my Ph.D. in Biochemistry from the National University of Ireland, Galway and my postdoctoral training at UC San Francisco.
My research is focused on detection and characterization of proteolytic enzymes involved in infectious diseases. Our research utilizes a mass spectrometry based platform technology to uncover the global proteolytic activity in complex biological samples such as extracts from pathogenic fungi, bacteria and worms. Using this technology, we have uncovered novel proteolytic activities in Schistosoma mansoni, Pseudogymnoascus destructans and Mycobacterium tuberculosis. In addition, we have designed potent inhibitors of the Plasmodium falciparum proteasome. Our group is highly collaborative and we routinely generate substrate specificity profiles of endo- and exo-peptidases that have been isolated from diverse organisms that includes ticks, crustaceans and worms.
PUBLICATIONS
Cysteine and Aspartyl Proteases Contribute to Protein Digestion in the Gut of Freshwater Planaria. PLoS Negl Trop Dis. 2016 Aug;10(8):e0004893. doi: 10.1371/journal.pntd.0004893. Goupil LS, Ivry SL, Hsieh I, Suzuki BM, Craik CS, O'Donoghue AJ, McKerrow JH.
Structure- and function-based design of Plasmodium-selective proteasome inhibitors. Nature. 2016 Feb 11;530(7589):233-6. doi: 10.1038/nature16936. Li H, O'Donoghue AJ, van der Linden WA, Xie SC, Yoo E, Foe IT, Tilley L, Craik CS, da Fonseca PC, Bogyo M.
Excretion/secretion products from Schistosoma mansoni adults, eggs and schistosomula have unique peptidase specificity profiles. Biochimie. 2016 Mar;122:99-109. doi: 10.1016/j.biochi.2015.09.025. Epub 2015 Sep 26. Dvořák J, Fajtová P, Ulrychová L, Leontovyč A, Rojo-Arreola L, Suzuki BM, Horn M, Mareš M, Craik CS, Caffrey CR, O'Donoghue AJ.
Dissecting the active site of the collagenolytic cathepsin L3 protease of the invasive stage of Fasciola hepatica. PLoS Negl Trop Dis. 2013 Jul 11;7(7):e2269. doi: 10.1371/journal.pntd.0002269. Print 2013. Corvo I, O'Donoghue AJ, Pastro L, Pi-Denis N, Eroy-Reveles A, Roche L, McKerrow JH, Dalton JP, Craik CS, Caffrey CR, Tort JF.
Substrate specificity of MarP, a periplasmic protease required for resistance to acid and oxidative stress in Mycobacterium tuberculosis. J Biol Chem. 2013 May 3;288(18):12489-99. doi: 10.1074/jbc.M113.456541. Epub 2013 Mar 15. Small JL, O'Donoghue AJ, Boritsch EC, Tsodikov OV, Knudsen GM, Vandal O, Craik CS, Ehrt S.
Global identification of peptidase specificity by multiplex substrate profiling. Nat Methods. 2012 Nov;9(11):1095-100. doi: 10.1038/nmeth.2182. Epub 2012 Sep 30. O'Donoghue AJ, Eroy-Reveles AA, Knudsen GM, Ingram J, Zhou M, Statnekov JB, Greninger AL, Hostetter DR, Qu G, Maltby DA, Anderson MO, Derisi JL, McKerrow JH, Burlingame AL, Craik CS.
Characterization of gut-associated cathepsin D hemoglobinase from tick Ixodes ricinus (IrCD1). J Biol Chem. 2012 Jun 15;287(25):21152-63. doi: 10.1074/jbc.M112.347922. Epub 2012 Apr 26. Sojka D, Franta Z, Frantová H, Bartosová P, Horn M, Váchová J, O'Donoghue AJ, Eroy-Reveles AA, Craik CS, Knudsen GM, Caffrey CR, McKerrow JH, Mares M, Kopácek P.
A parasite cysteine protease is key to host protein degradation and iron acquisition. J Biol Chem. 2008 Oct 24;283(43):28934-43. doi: 10.1074/jbc.M805824200. Epub 2008 Aug 13. O'Brien TC, Mackey ZB, Fetter RD, Choe Y, O'Donoghue AJ, Zhou M, Craik CS, Caffrey CR, McKerrow JH.