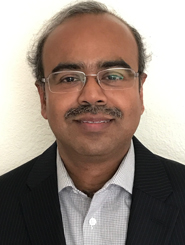 Assistant Adjunct Professor, UCSD
Skaggs School of Pharmacy and Pharmaceutical Sciences
Amoebozoa Core Director, CDIPD
Contact: This email address is being protected from spambots. You need JavaScript enabled to view it.
Follow me: https://pharmacy.ucsd.edu/faculty/bios/debnath.shtml
I am seeking to identify existing or novel chemotypes that could be used to treat amebiasis and naegleriasis. I was drawn to Entamoeba histolytica because it is a remarkable organism with phagocytic, proteolytic, and cytolytic capabilities, invading human colonic mucosa, and occasionally penetrating through to the portal circulation, reaching the liver. Besides being an exploitable model system, E. histolytica is a pathogenic organism and a potential bioterrorism threat. It is the causative agent of human amebiasis. Infection with this parasite results in 50 million cases of invasive disease and about 70,000 annual deaths. Current therapy is limited and often results in significant side effects. These factors make E. histolytica a compelling model system for doing basic and clinical research.
Apart from research with parasitic ameba E. histolytica, my interest in free-living ameba research stems from the fact that Naegleria fowleri, popularly known as "brain-eating ameba", causes a rapidly fatal infection called naegleriasis or Primary Amebic Meningoencephalitis (PAM). PAM occurs principally in healthy children of less than 13 years old with a history of recent exposure to warm fresh water and mortality rate is greater than 95%. Therefore, development of fast-acting, efficient drugs is a critical unmet need to avert future deaths of children.
To accelerate the identification of new drug leads, I have developed an automated high-throughput screening (HTS) methodology that interfaces these two pathogens with microtiter plate-formatted compound libraries. As a central component in a pre-clinical drug discovery pipeline for amebiasis and naegleriasis, I have identified several compounds in vitro with better activity than current therapies and confirmed efficacy of some compounds in subsequent testing in an animal model of infection. We are one of the few drug discovery researchers in the field of PAM in the world and our research is providing an enormous opportunity for discovery and development of the first successful treatment for Naegleria infection. As a testament to this, I was responsible for two successful orphan drug designations by the US FDA, one for amebiasis and the other one for PAM.
Aside from employing a robust HTS assay to identify potential drug candidates, my other major research interest is identification or validation of key virulence factors contributing to pathogenesis in colonic infection by E. histolytica. In addition, I am using designed small molecule inhibitors to probe the function of important proteins, such as cysteine protease and heat shock protein 90, in Entamoeba and Naegleria biology. These studies will provide important new clues about how a pathogen orchestrates responses to the host environment. The knowledge generated in this study has the potential for generating new types of therapeutics for the treatment of amebiasis and naegleriasis.
BOOKS
Debnath, A. Drug development: Old drugs and new lead. Book chapter in Amebiasis: Biology and Pathogenesis of Entamoeba (Nozaki T and Bhattacharya A, eds.), Springer Publishing House (Japan) 2015, pp 553-564.
PUBLICATIONS
Naegleria fowleri after 50 Years: Is it a neglected pathogen? J Med Microbiol. 2016 Jul 4. doi: 10.1099/jmm.0.000303. [Epub ahead of print] Martínez-Castillo M, Cárdenas-Zúñiga R, Coronado-Velázquez D, Debnath A, Serrano-Luna J, Shibayama M.
Nitroimidazole carboxamides as antiparasitic agents targeting Giardia lamblia, Entamoeba histolytica and Trichomonas vaginalis. Eur J Med Chem. 2016 Sep 14;120:353-62. doi: 10.1016/j.ejmech.2016.04.064. Epub 2016 Apr 27. Jarrad AM, Debnath A, Miyamoto Y, Hansford KA, Pelingon R, Butler MS, Bains T, Karoli T, Blaskovich MA, Eckmann L, Cooper MA.
X-ray structures of thioredoxin and thioredoxin reductase from Entamoeba histolytica and prevailing hypothesis of the mechanism of Auranofin action. J Struct Biol. 2016 May;194(2):180-90. doi: 10.1016/j.jsb.2016.02.015. Epub 2016 Feb 12. Parsonage D, Sheng F, Hirata K, Debnath A, McKerrow JH, Reed SL, Abagyan R, Poole LB, Podust LM.
Metronidazole-triazole conjugates: Activity against Clostridium difficile and parasites. Eur J Med Chem. 2015 Jun 18;101:96-102. doi: 10.1016/j.ejmech.2015.06.019. [Epub ahead of print] Jarrad AM, Karoli T, Debnath A, Tay CY, Huang JX, Kaeslin G, Elliott AG, Miyamoto Y, Ramu S, Kavanagh AM, Zuegg J, Eckmann L, Blaskovich MA, Cooper MA.
Heat shock protein 90 inhibitors repurposed against Entamoeba histolytica. Front Microbiol. 2015;6:368. doi: 10.3389/fmicb.2015.00368. Shahinas D, Debnath A, Benedict C, McKerrow JH, Pillai DR.
Repurposing auranofin as a lead candidate for treatment of lymphatic filariasis and onchocerciasis. PLoS Negl Trop Dis. 2015 Feb;9(2):e0003534. doi: 10.1371/journal.pntd.0003534. Bulman CA, Bidlow CM, Lustigman S, Cho-Ngwa F, Williams D, Rascón AA Jr, Tricoche N, Samje M, Bell A, Suzuki B, Lim KC, Supakorndej N, Supakorndej P, Wolfe AR, Knudsen GM, Chen S, Wilson C, Ang KH, Arkin M, Gut J, Franklin C, Marcellino C, McKerrow JH, Debnath A, Sakanari JA.
Hsp90 inhibitors as new leads to target parasitic diarrheal diseases. Antimicrob Agents Chemother. 2014 Jul;58(7):4138-44. doi: 10.1128/AAC.02576-14. Epub 2014 May 12. Debnath A, Shahinas D, Bryant C, Hirata K, Miyamoto Y, Hwang G, Gut J, Renslo AR, Pillai DR, Eckmann L, Reed SL, McKerrow JH.
In vitro efficacy of corifungin against Acanthamoeba castellanii trophozoites and cysts. Antimicrob Agents Chemother. 2014;58(3):1523-8. doi: 10.1128/AAC.02254-13. Epub 2013 Dec 23. Debnath A, Tunac JB, Silva-Olivares A, Galindo-Gómez S, Shibayama M, McKerrow JH.
A reprofiled drug, auranofin, is effective against metronidazole-resistant Giardia lamblia. Antimicrob Agents Chemother. 2013 May;57(5):2029-35. doi: 10.1128/AAC.01675-12. Epub 2013 Feb 12. Tejman-Yarden N, Miyamoto Y, Leitsch D, Santini J, Debnath A, Gut J, McKerrow JH, Reed SL, Eckmann L.
Reprofiled drug targets ancient protozoans: drug discovery for parasitic diarrheal diseases. Gut Microbes. 2013 Jan-Feb;4(1):66-71. doi: 10.4161/gmic.22596. Epub 2012 Nov 8. Review. Debnath A, Ndao M, Reed SL.
Corifungin, a new drug lead against Naegleria, identified from a high-throughput screen. Antimicrob Agents Chemother. 2012 Nov;56(11):5450-7. doi: 10.1128/AAC.00643-12. Epub 2012 Aug 6. Debnath A, Tunac JB, Galindo-Gómez S, Silva-Olivares A, Shibayama M, McKerrow JH.
A high-throughput drug screen for Entamoeba histolytica identifies a new lead and target. Nat Med. 2012 Jun;18(6):956-60. doi: 10.1038/nm.2758. Debnath A, Parsonage D, Andrade RM, He C, Cobo ER, Hirata K, Chen S, García-Rivera G, Orozco E, Martínez MB, Gunatilleke SS, Barrios AM, Arkin MR, Poole LB, McKerrow JH, Reed SL.
Mining a cathepsin inhibitor library for new antiparasitic drug leads. PLoS Negl Trop Dis. 2011 May 3;5(5):e1023. doi: 10.1371/journal.pntd.0001023. Ang KK, Ratnam J, Gut J, Legac J, Hansell E, Mackey ZB, Skrzypczynska KM, Debnath A, Engel JC, Rosenthal PJ, McKerrow JH, Arkin MR, Renslo AR.
Antiparasitic activities of novel, orally available fumagillin analogs. Bioorg Med Chem Lett. 2009 Sep 1;19(17):5128-31. doi: 10.1016/j.bmcl.2009.07.029. Epub 2009 Jul 10. Arico-Muendel C, Centrella PA, Contonio BD, Morgan BA, O'Donovan G, Paradise CL, Skinner SR, Sluboski B, Svendsen JL, White KF, Debnath A, Gut J, Wilson N, McKerrow JH, DeRisi JL, Rosenthal PJ, Chiang PK.
Bis-acridines as lead antiparasitic agents: structure-activity analysis of a discrete compound library in vitro. Antimicrob Agents Chemother. 2007 Jun;51(6):2164-72. Epub 2007 Mar 19. Caffrey CR, Steverding D, Swenerton RK, Kelly B, Walshe D, Debnath A, Zhou YM, Doyle PS, Fafarman AT, Zorn JA, Land KM, Beauchene J, Schreiber K, Moll H, Ponte-Sucre A, Schirmeister T, Saravanamuthu A, Fairlamb AH, Cohen FE, McKerrow JH, Weisman JL, May B
Transcriptional and secretory responses of Entamoeba histolytica to mucins, epithelial cells and bacteria. Int J Parasitol. 2007 Jul;37(8-9):897-906. Epub 2007 Feb 12. Debnath A, Tashker JS, Sajid M, McKerrow JH.
A phagocytosis mutant of Entamoeba histolytica is less virulent due to deficient proteinase expression and release. Exp Parasitol. 2007 Feb;115(2):192-9. Epub 2006 Sep 20. Hirata KK, Que X, Melendez-Lopez SG, Debnath A, Myers S, Herdman DS, Orozco E, Bhattacharya A, McKerrow JH, Reed SL.
Entamoeba histolytica: Characterization of human collagen type I and Ca2+ activated differentially expressed genes. Exp Parasitol. 2005 Jul;110(3):214-9. Epub 2005 Apr 8. Debnath A, Akbar MA, Mazumder A, Kumar S, Das P.
Identification of genomic responses to collagen binding by trophozoites of Entamoeba histolytica. J Infect Dis. 2004 Aug 1;190(3):448-57. Epub 2004 Jul 2. Debnath A, Das P, Sajid M, McKerrow JH.
Genes induced by a high-oxygen environment in Entamoeba histolytica. Mol Biochem Parasitol. 2004 Feb;133(2):187-96. Akbar MA, Chatterjee NS, Sen P, Debnath A, Pal A, Bera T, Das P.
Characterization of plasma membrane-associated antigens of diagnostic and prophylactic importance in Entamoeba histolytica. Arch Med Res. 2000 Jul-Aug;31(4 Suppl):S21-2. No abstract available. Mukhopadhyay P, Sengupta S, Akbar A, Sengupta K, Bhattacharya S, Debnath A, Ganguly S, Das P.
PCR detection of Giardia lamblia in stool: targeting intergenic spacer region of multicopy rRNA gene. Mol Cell Probes. 2000 Jun;14(3):181-9. Ghosh S, Debnath A, Sil A, De S, Chattopadhyay DJ, Das P.
Molecular mechanisms of pathogenesis in amebiasis. Indian J Gastroenterol. 1999 Oct-Nov;18(4):161-6. Review. Das P, Debnath A, Muñoz ML.
Antigens of diagnostic and prophylactic importance in Entamoeba histolytica. Indian J Clin Biochem. 1998 Jan;13(1):33-5. doi: 10.1007/BF02873440. Bhattacharya S, Sengupta K, Sengupta S, Mukhopadhyay P, Debnath A, Das P.